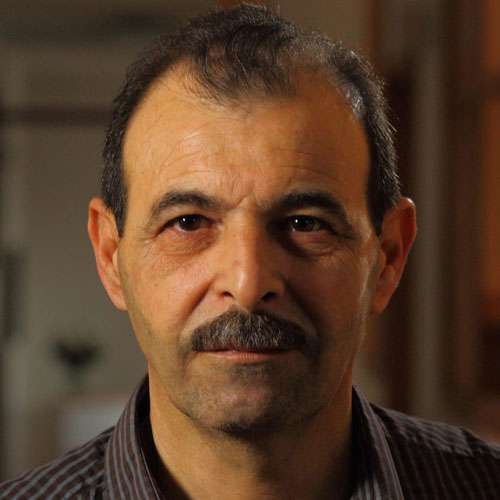 Anwar al-Bunni (Arabic: أنور البني, born 1959) is a Syrian human rights lawyer who has defended clients such as Riad al-Turk, Riad Seif, the owner of The Lamplighter, (an independent newspaper shut down by the Syrian government), Kurdish protesters, and "dozens of others."[1]
Al-Bunni was born in Hama to a Christian family active in dissident leftist politics.[1] According to an interview with American journalist Robin Wright, he became interested in defending dissidents after being beaten, bayonetted, and having his beard set on fire by Syrian soldiers during a military sweep of Hama in 1981.[1] Wright describes him as having spent "most of his life" defending Syria's political dissidents, often pro bono, and having sold his automobile and office to pay his bills as a result.[2] He was head of the short-lived European Union-funded human rights training centre in Syria called the Center for Legal Research and Studies until it was shut down by the government following his 2006 arrest.[3]
Al-Bunni defended Damascus Spring activist Aref Dalila at his 2002 trial. After presenting a blood-stained handkerchief as evidence that Dalila had been beaten at the prison, he was ordered from the court by a judge and banned from practicing before the Supreme State Security Court.[4]
2006–2008 imprisonment
In May 2006 he was detained by security forces after signing the Beirut-Damascus Declaration calling for democratic reform. A year later he was given a five-year sentence for "spreading false or exaggerated news that could weaken national morale, affiliating with an unlicensed political association with an international nature, discrediting state institutions and contacting a foreign country", according to his lawyer.[5] He was also fined the equivalent of US$2,000 for operating the Center for Legal Research and Studies without government permission. Analysts described the sentence as more severe than those previously given for similar offenses, making it a "stark warning to the Syrian opposition".[3]
Amnesty International designated him a prisoner of conscience,[6] and U.S. President George W. Bush named al-Bunni in a speech as a political prisoner unfairly jailed by Syria.[7]
After his release from prison in 2008, he continued to defend detainees.
2004–present: exile in Germany
Al-Bunni escaped from Syria in 2012, shortly after the Houla massacre, and later sought political asylum in Germany.[8][9]
In Germany, al-Bunni participated in the universal jurisdiction war crimes trial of Anwar Raslan and Eyad al-Gharib. In June 2020, he provided testimony as a witness on "the horrors and the bureaucratic structures of Assad's jails and torture chambers", based on his five years as a prisoner in Syria and from his legal experience in representing victims. Al-Bunni worked with prosecutors to help find witnesses willing to testify in the trial.[8]
Al-Bunni is more broadly interested in promoting transitional justice.
Awards
In 2008, al-Bunni received the Front Line Award for Human Rights Defenders at Risk.[10] The following year he was awarded the Human Rights Award by the German Association of Judges.,[11] in 2018 he received the Franco-German Prize for 'Human Rights and the Rule of Law'.[12]
Anwar features in Time Magazine's "The 100 Most Influential People of 2022".[13]