THE EARLY PHOENIX
A first look at today's most notable stories from the Middle East, selected by ACLS experts

1 March 2023
Subscribe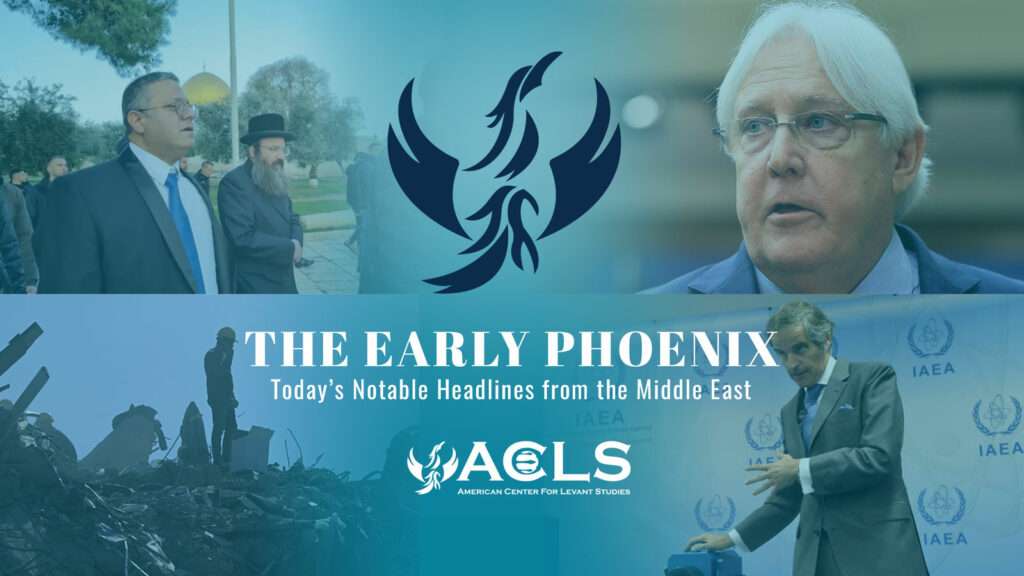 IRAN
1. IAEA Confirms Iran Has Enriched Uranium to 84% (Al Sharq Al Awsat). The International Atomic Energy Agency confirmed that it had detected particles enriched to a rate of just under 90 percent in Iran. The United Nations agency's report stated it is currently in discussions with Iran about the origin of uranium particles enriched to a purity of up to 83.7 percent at Iran's Fordow nuclear facility. In turn, the Pentagon said that "Iran needed 12 months to produce a nuclear bomb in 2018… now it needs 12 days," said Undersecretary of Defense for Policy Affairs Dr. Colin Kahl, the number three official in the Pentagon. The report also indicated Iran has continued to increase its stockpile of enriched uranium in recent months. The stockpile had reached 3,760.8 kg on February 12, compared to 3,673.7 kg in October, exceeding the ceiling allowed by the 2015 international nuclear agreement by over 18 times.
2. Brazil Allows Two Iranian Warships to Dock in Rio Despite US Pressure (Al Arabiya). Two Iranian warships docked in Rio de Janeiro on Sunday after Brazilian President Luiz Inacio Lula da Silva's government granted permission despite pressure from the US to bar them. The IRIS Makran and IRIS Dena warships both arrived on Sunday morning, Rio's port authority said in a statement.
3. Widespread Gas Poisonings of Schoolgirls Anger Iranians (Iran International). An Iranian lawmaker denied the involvement of religious fundamentalists in a spate of mysterious poisonings in all-female schools in Iran but has demanded that classes be held online. However, social media attributions suggest the school attacks may be the work of underground Shiite groups with beliefs similar to doomsday cults. These groups may also be infuriated by young female students' anti-regime protests and their refusal to wear the hijab.
The first case was reported in Qom on November 30, affecting 18 students at a secondary school who fell ill with symptoms such as nausea, headaches, coughing, difficulty breathing, heart palpitations, and lethargy. The poisonings, apparently caused by gas, were hushed for nearly two months, but now they have spread to several other cities, particularly in Boroujerd, the capital of the western Lorestan province, where several schools were hit in the past week. 
GULF REGION
4. US Defense Secretary to Visit Middle East in Coming Days (Al Arabiya). US Secretary of Defense Lloyd Austin will head to the Middle East this weekend, the Pentagon announced on Tuesday. "This weekend, Secretary Austin will depart on a planned, multi-day visit to the US Central Command (CENTCOM) Area of Responsibility (AOR)," Pentagon Press Secretary Brig. Gen. Pat Ryder said. Without elaborating on which countries Austin would visit, Ryder said the trip would allow the secretary to meet with leaders and several key partner nations to "reaffirm the enduring US commitment to the Middle East region." Speaking at a press briefing, Ryder said talks would also focus on ways to work closely to increase regional security and stability and deter potential threats.
5. Abu Dhabi Police Seize 4.5 Million Captagon Tablets Hidden in Food Cans (Al Arabiya). Abu Dhabi police arrested a man who allegedly tried to smuggle 4.5 million Captagon tablets in cans of food. General Tahir al-Dhaheri, director of Abu Dhabi Police's anti-narcotics team, said the suspect had intended to transport the huge haul of drugs – hidden in cans of green beans – to a neighboring Middle Eastern country.
6. Qatar:  We Sent 50 Planes to the Earthquake Zones, and We Will Build a City in Syria (Al Khaleej Online). The Qatari foreign ministry's spokesman, Majid Al-Ansari, announced during a weekly media briefing in Doha that over fifty airlift planes have been used to deliver aid to earthquake victims in Turkey and Syria…Al-Ansari also mentioned that the Qatar Fund for Development signed an agreement with the Turkish Presidency of Disaster and Emergency Management (AFAD) and the Syrian Decent Living Association on February 27 to establish an integrated city in northern Syria for those affected by the earthquake. 
IRAQ
7. KDP, PUK Reach Understanding on 'Majority' of Election-Related Issues (Rudaw). The Kurdistan Democratic Party (KDP) and rival Patriotic Union of Kurdistan (PUK) held a meeting at the level of electoral bodies in Erbil on Tuesday, with both parties announcing in a joint statement that they reached a "mutual understanding" on "majority" of points related to how the upcoming elections should be held. Rudaw understands that both parties have agreed on the method of the election as well as coordinating with Iraq's electoral commission to benefit from their voter list of the Kurdistan Region. This comes as the Kurdistan Region Presidency has ramped up efforts to bring all parties closer and set a date for the parliamentary elections. The inability of the Kurdistan Region to hold elections is largely attributed to contentions and ongoing wrangling between the KDP and PUK – who have often found themselves entangled in a clash of words over the elections law, as the Sulaimani-based PUK has said it would support new polls once the electoral law has been amended.
8. UN Secretary General Guterres Makes First Visit to Iraq in 6 Years (Al Arabiya). UN Secretary-General Antonio Guterres arrived in Baghdad on Tuesday for his first visit to Iraq in six years. During his visit, he plans to support peace efforts in the country. On Thursday, Guterres will visit a camp for displaced people in northern Iraq and then travel to Erbil to meet with representatives of the Kurdistan Regional Government.
TUNISIA
9. Tunisian Opposition Condemns Arrest of its Cadres, While the EU Will Address Tunisia's Situation in its Next Ministerial Meeting (Al Jazeera). The head of the National Salvation Front, Ahmed Najib al-Shabi, commented that the current repressive campaign against dissidents in Tunisia is a sign of the confusion of power, while a member of the Executive Board of the Salvation Front, Samir Dilo, expressed concern about the possibility of physical liquidation of opponents. The European Union has also expressed concern and plans to discuss the Tunisian file at its next foreign ministers' meeting in March.
SYRIA
10. More than 201,000 People Displaced and 1,733 Homes Destroyed in the Earthquake in Northwest Syria (Syria TV). According to the "Syria Response Coordinators," over 201,000 people were displaced and 1,733 homes destroyed in northwestern Syria due to the earthquake that occurred on February 6. Around 63,738 people are taking shelter in 236 centers across the region, with 64 percent of the displaced being children, women, and special cases. The number of refugees returning to Syria is 34,718 people.
11. UN Says Syria facing 'very high number' of cholera outbreaks after quakes (Anadolu Agency). Northwest Syria is in the midst of a "very high number" of cholera outbreaks in the wake of deadly earthquakes that exacerbated an already dire humanitarian landscape, the UN's humanitarian affairs chief said Tuesday. "The risk of disease is growing amid preexisting cholera outbreaks," Martin Griffiths told the Security Council three weeks after deadly Feb. 6 temblors devastated wide stretches of Syria and Türkiye. "The prices of food, household costs, other essential items climb higher." Immediate action needs to be taken to restore drinking water to the people of the region to address "the pervasive threat of cholera in Syria, northwest and beyond," he said.
12. UN Delegation Meets Syrian Interim Government in Northwestern Syria to Discuss Relief Needs (Enab Baladi). A UN delegation met with officials of the Syrian Interim Government in northwestern Syria on Tuesday to discuss the region's needs. These include tents to shelter those affected by the earthquake, flour to ensure an uninterrupted bread supply, and medical equipment for hospitals and centers. The interim government asked the delegation to coordinate and monitor aid distribution to ensure justice in distribution and that all affected people receive their needs.
LEBANON
13. Lebanon Top Prosecutor Tells Judge Investigating Banks to Pause Probe (Al Arabiya English).  Lebanon's top prosecutor on Tuesday told a judge investigating the financial transactions of commercial banks to temporarily halt her work, a week after the country's caretaker prime minister also moved to block her investigations. Lebanese judge Ghada Aoun has been investigating the banking sector since it collapsed in 2019 following decades of corrupt government, profligate spending and financial mismanagement. On Tuesday, top prosecutor Ghassan Oweidat sent her a letter, seen by Reuters, requesting she "stop her investigative and probing procedures temporarily, until decisions are taken on the issues raised."
14. Swiss Authorities Investigate Lebanon's Central Bank Governor (Sky News Arabia). Switzerland's financial regulator audited 12 banks and started proceedings against two of them related to corruption allegations against Central Bank of Lebanon Governor Riad Salameh. Lebanese authorities accused Salameh, his brother, and his assistant of money laundering, embezzlement, and illegal enrichment after an 18-month investigation into whether they illegally obtained over $300 million from the Central Bank between 2002 and 2015.
15. Lebanon's Financial System is Over, Says Economy Minister (The National News). The Lebanese Economy Minister on Tuesday admitted his department can do little to stop the country's steep financial decline, as he discussed the decision to make supermarkets display the rate-to-the-dollar at which goods are priced. "There's no other country in the world that imports more than 90 per cent of its goods. Even our domestic products are made using primary components that are imported…everything is priced on the dollar. "The financial regime is over. It's done," he said. "Now we leave the currency to its fate."
TURKIYE
16. Death Toll from Earthquakes in Türkiye Passes 45,000 (Anadolu Agency). The death toll from the devastating earthquakes that struck Türkiye has risen to 45,089, the country's disaster management agency, AFAD, said early Wednesday.
17. Ankara:  42,000 Syrians Return to Their Country after the Earthquake (Anadolu Agency). On Tuesday, Turkish Defense Minister Hulusi Akar announced that 42,000 Syrians who lost their homes, relatives, and children due to the double earthquake that struck the south of the country on February 6 have returned to their country of their own volition.
18. Türkiye's Inflation Rate Likely to Drop to 55% in February (Daily Sabah). Türkiye's inflation is expected to ease further in February, although prices continue to rise on a monthly basis, driven by higher prices of food and services. The annual consumer price index (CPI) fell sharply in December and eased to 57.7% in January, down from the peak of 85.5% – a 24-year high – registered last October.
ISRAEL
19. Israel Police Thwart Plot to Assassinate Minister Ben-Gvir (Jerusalem Post). Israel Police arrested a resident of east Jerusalem who admitted to planning to assassinate National Security Minister Itamar Ben-Gvir, Israel's Channel 13 reported on Tuesday. The plan was intended to be carried out during Ramadan when Ben-Gvir intended to visit the Temple Mount.