THE EARLY PHOENIX
A first look at today's most notable stories from the Middle East, selected by ACLS experts

15 February 2023
Subscribe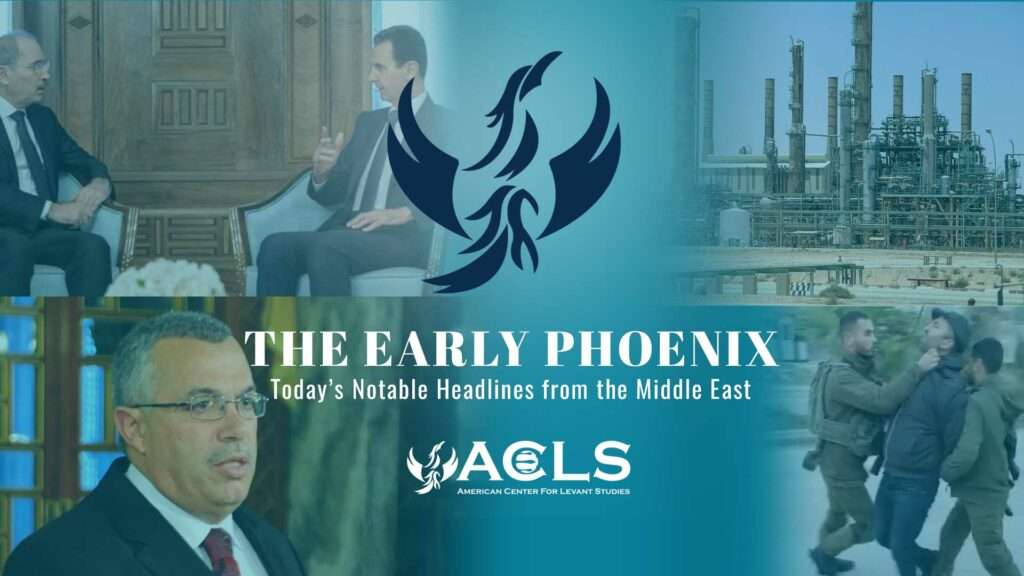 TURKEY-SYRIA EARTHQUAKE
1. Assad Regime Lies About the Number of Victims in Regime Territory, While Syrian Organizations Document Death of 6,319 Syrians in All Areas (Syria TV). The Syrian Network for Human Rights documented the death of 6,319 Syrians due to the earthquake that struck the region at dawn last Monday, including 2,157 in northwestern Syria, 321 in areas controlled by the Syrian regime, and 3,841 refugees in Turkey….On Wednesday, the Syrian Network for Human Rights issued a report documenting the number of earthquake victims in regime-held areas, recording 321 deaths, demonstrating that the Syrian regime is exaggerating the death toll, as the Ministry of Health in Damascus claimed that 1,414 deaths had been recorded.
2. 228th Hour Miracle:  Woman and Two Children Rescued After 228 Hours Under Rubble (Daily Sabah). A woman and two children were rescued from the rubble of "Uğur Apartment" on Oymak Street in the central Antakya district of Hatay at the 228th hour of the earthquake. 
3. Qatar Donates World Cup Mobile Homes to Earthquake Survivors  (Naharnet). The gas-rich Gulf nation says it had always planned to donate the mobile homes. They were needed to help house some of the 1.4 million fans who descended on the small country during soccer's biggest tournament.
4. Saudi Plane Carrying Aid Lands in Syria for First Time in a Decade (Naharnet). "This is the first plane from Saudi Arabia to land on Syrian territory in more than 10 years," the official said, speaking on condition of anonymity because he is not allowed to speak to the press.
5. Guterres Calls on Countries to Fully Fund $397 Million Quake Appeal for Syria (UN.org). "I have an urgent message to the international community: the human suffering from this epic natural disaster should not be made even worse by man-made obstacles – access, funding, supplies."
6. King Charles Attends a Mourning Tent Raised in London to Honor Syrian Earthquake Victims (Syria TV). The Syrian community in the United Kingdom opened a mourning tent in the capital, London, to honor the victims of the earthquake that struck Syria last week. It was attended by King Charles III , the Foreign Secretary, James Clevery, and the Mayor of London, Sadiq Khan. On Tuesday evening, the Syrian community opened the "Syria House" tent in Trafalgar Square, in central London, for three days, and invited them to join in honoring the earthquake victims, and expressing solidarity with the families of the missing, for a week.
TURKIYE
7. Turkish Stock Exchange Jumps 5.86% After Resumption of Trading (Al Arabiya). The Istanbul Stock Exchange 100 index rose 5.9%, as the benchmark index partially compensated for losses amounting to tens of billions of dollars that followed the double earthquake on February 6 in the southeast of the country, according to "Bloomberg", and Al Arabiya.net
8. Turkish Opposition:  Turkiye's Elections Must Be Held on Time, and There is No Need to Postpone Them (Syria TV). Turkish opposition parties stressed their constitutional commitment to holding presidential and parliamentary elections on June 18, after a former official in the Justice and Development Party suggested postponing the elections due to the Kahramanmaraş earthquake in the south of the country.
IRAN
9. Von Der Leyen:  EU Will Sanction Iran for Providing Arms to Russia's War in Ukraine (Iran International). The head of the European Commission said: "Hundreds of UAVs have also been produced in Iran, which are used by Russia in the war against Ukraine. "These Iranian drones are killing Ukrainian civilians…so for the first time we are also proposing sanctions targeting Iranian economic entities, including those associated with the IRGC."
10. Iran and China Ink 20 Cooperation Deals During Raisi's Visit to Beijing (Tasnim News). The agreements entail cooperation in diverse fields including crisis management, tourism, information and communications technology, environment, international trade, intellectual property, agriculture, exports, health and medical sector, media activities, sports and cultural heritage.
11. Accused of Assassinating Former Egyptian President Anwar Sadat, the New al-Qaeda Leader Resides in Iran (Al Hadath). An Egyptian security source told Al-Arabiya.net that new al-Qaeda leader Saif al-Adel's real name was Muhammad Salah al-Thien Zaidan, and he was in command of the military wing of al-Qaeda. Western intelligence services confused him with Muhammad Ibrahim Makkawi, the former leader of the organization, as they believed that Makkawi was the same as Saif al-Adl.
SYRIA
12. U.S. Troops Shoot Down Iranian Drone Spying on U.S. Base in Eastern Syria (US Central Command). On February 14th, at approximately 2:30 PM local time, US forces in Syria engaged and shot down an Iranian-manufactured UAV attempting to conduct reconnaissance of Mission Support Site Conoco, a patrol base in northeast Syria. 
13. Jordan's Foregin Minister Visted Damascus to Announce " A starting Point in Resolving the Crisis in Syria" (Syria TV). In statements he made during a press conference with Syrian Foreign Minister Faisal al-Miqdad after meeting Bashar al-Assad, Jordanian Foreign Minister Ayman Safadi said his visit "included a discussion of bilateral relations and efforts to reach a political solution to the Syrian crisis," adding, "We discussed a solution that will preserve Syria's unity, cohesion, and sovereignty; restore its security, stability and role; create conditions that allow the voluntary return of refugees; and rid Syria of terrorism, which poses a threat to us all.
14. Exploiting the Earthquake Disaster, ISIS Executes 12 Abductees, Including a Woman, in Eastern Syria (Al Hadath). The Syrian Observatory for Human Rights announced on Wednesday that ISIS executed 12 abductees, while the fate of 63 others is still unknown, in the Palmyra desert. The Observatory said that these "were kidnapped while collecting truffles in the Palmyra desert…This comes in light of the organization's cells exploiting the international community's preoccupation with the catastrophe of the devastating earthquake that struck Syria and Turkey."
15. Syrian Central Bank raises the ceiling for internal transfers… to 5 million pounds (Al Modon). The Central Bank of Syria raised the ceiling for internal transfers for ordinary people within its areas of control, for the second time in less than two months. The Syrian Central Bank said in a statement on Tuesday that it had decided to raise the ceiling of remittances allowed to be transferred in Syrian pounds by an ordinary or legal person to 5 million Syrian pounds [about $675], explaining that the decision is to "provide more flexibility in money transfers through internal remittance companies."
EGYPT AND NORTH AFRICA
16. Price of the Dollar Breaches New Levels Against the Pound at Egyptian Central Bank (Al Hadath). The exchange rate of the dollar breached new levels against the Egyptian pound in the official market, at the end of Tuesday's trading. Since the largest and last reduction announced by the Central Bank of Egypt in the price of the pound against the dollar in early January, the US green note has witnessed slight but continuous increases. On the other hand, the black market is suffering from a suffocating crisis, with a large number of speculators stopping and importers heading to banks to obtain dollars.
17. Tunisian Judiciary Imprisons Deputy Chief of Opposition En Nahada Party (Al Hadath). On Monday evening, the Tunisian authorities arrested Noureddine Al-Buhairi from inside his home, as part of a campaign of arrests that included well-known political and judicial leaders and influential businessmen, for investigation in a case related to conspiracy against state security and planning to overthrow the regime…Tunisia witnessed, during the past few days, a campaign of arrests that included, in addition to Al-Buhairi, the politician Khayam al-Turki, a businessman with extensive influence in the field of money and politics; Kamal Latif, the former leader of the Ennahda Movement; Abdel Hamid Jelassi, the former head of the Court of Cassation; Al-Tayeb Rashid, a former investigative judge; Al-Bashir Al-Akrami, who was in charge of the assassination file; and political opponents Choukri Belaid and Mohamed Brahmi.
18. UN:  At Least 73 Libyan Migrants Dead as Their Boat Capsizes on its Way to Europe (An Nahar).  "At least 73 migrants are missing and are presumed dead after a boat crash off the coast of Libya yesterday," the United Nations' International Organization for Migration said. The boat, which was carrying 80 people, sailed from Qasr al-Akhyar, about 75 km east of the capital, Tripoli, heading to Europe.
19. Libya Aims to Increase Oil Production to 2 Million Barrels Per Day (Al Arabiya). Libya's crude oil production last month reached 1.215 million barrels per day. On Wednesday, the head of the National Oil Corporation in Libya, Farhat bin Qadara, announced a new strategic plan aimed at increasing production to two million barrels per day.
GULF REGION AND YEMEN
20. Exclusive:  After Visit of Top U.S. Official, UAE Restricts Sending Dirhams to Iran (Iran International). According to exclusive information received by Iran International, after the visit of the US Deputy Treasury Secretary for Terrorism and Financial Intelligence two weeks ago, the United Arab Emirates has increased the strictness of remittances of dirhams to Iran, as well as the banking regulations for newly established companies in the UAE.
21. 23 Organizations Condemn Houthis for Jailing a Yemeni Woman Artist (Al Hadath). Twenty-three human rights and community organizations strongly condemned the prison sentence issued by the Houthi militia, which extended the prison term of artist Intisar al Hammadi for five years…In a joint statement, the organizations condemned the Houthis' kidnapping of Al Hammadi and her subsequent mutilation and defamation, as she was subjected during her detention to torture and forced under pressure to confess to false charges without evidence.
LEBANON
22. Citizens and Politicians Flock to Rafiq Hariri's Tomb on 18th Anniversary of His Assassination (Naharnet). Thousands of citizens from the various regions and dozens of political, diplomatic, social, intellectual and religious figures were flocking Tuesday to the tomb of slain ex-PM Rafik Hariri in central Beirut to commemorate the 18th anniversary of his assassination…Last June, appeals judges at the U.N.-backed Special Tribunal for Lebanon sentenced two members of Hezbollah to life imprisonment for their alleged roles in the assassination.
23. International Envoys Meet in Paris, Warn Lebanon on Failure to Elect New President (Naharnet). The continued failure to elect a new president in Lebanon "will dictate a reevaluation of the entire relations" with the country, the envoys of the five nations that took part in the latest Paris meeting said on Monday. "Real support for Lebanon will begin after the election of the new president and the implementation of the needed reforms," the ambassadors went on to say. The foreign delegation was comprised of U.S. Ambassador to Lebanon Dorothy Shea, French Ambassador to Lebanon Anne Grillo, Egyptian Ambassador to Lebanon Yasser Elwy, Qatari Ambassador to Lebanon Ibrahim Abdul Aziz al-Sahlawi and Saudi Embassy Counselor Fares al-Amoudi.
ISRAEL AND PALESTINIAN TERRITORIES
24. Israeli Army Punishes Soldier Who Beat a Palestinian Activist (An Nahar). The Israeli army sentenced a soldier to ten days in prison after he assaulted a prominent Palestinian activist in Hebron, in the occupied West Bank, who was working with foreign journalists. Human rights activist Issa Amro, who strongly criticizes Israeli practices and has previously criticized the Palestinian Authority, said he was working with prominent American journalist Lawrence Wright, writer for The New Yorker, when the incident occurred. 
25. Herzog hosts Rothman, Lapid, Gantz separately in bid for judicial overhaul compromise (Times of Israel).  Coalition and opposition leaders met separately with President Isaac Herzog on Tuesday to discuss the president's urgent call for compromise on the government's fraught push to overhaul the judiciary, as coalition lawmakers said they were willing to discuss some parts of the proposal but unwilling to fold on others.
26. Ben Gvir Warns Netanyahu:  This Isn't What We Signed up For, It Can't Continue' (Times of Israel). Ben Gvir said on Wednesday he was promised 'full right-wing government.'
IRAQ
27. Iraqi Government Donates 90,000 Tons of Fuel to Syria (Al Iraq News). On Tuesday, the Iraqi Council of Ministers decided to donate 90,000 tons of fuel to Syria, following the devastating earthquake that struck Syria and Turkey at dawn on February 6.
28. Foreign Minister Says Washington Agreed Iraq Can Continue Buying Electricity and Gas from Iran (Al Iraq News).  Iraqi Foreign Minister Fuad Hussein announced that his country had received the green light from the United States to continue buying electricity and gas from Iran. Al-Ahed News Network [Associated with Iranian-backed militant group Asa'ib Ahl al Haqq] reported that Fuad Hussein stated that Iraq will continue to invest in the field of gas.