The Region October 23-2023
Executive Summary: In today's edition of the Region, we offer an in-depth analysis that navigates the complex geopolitical terrain of the MENA region, a subject of critical importance to U.S. foreign policy. The report focuses on pivotal actors such as Iran, Israel, Saudi Arabia, and Turkey, providing a multi-faceted view that goes beyond military and diplomatic actions to include the internal dynamics shaping each country's foreign policy. For instance, Iran continues to escalate its confrontational stance against the U.S. and Israel, both overtly and covertly. This is paralleled by a regime crackdown on internal dissent, a factor that could influence Iran's external strategies. Similarly, the U.S. is undergoing a strategic recalibration in the Middle East, emphasizing rapid response capabilities and a unified political stance to deter potential threats like Iran.
The report also offers actionable recommendations tailored for legislative decision-making. Among these, consider targeted sanctions against Iran's internal repression mechanisms, which could indirectly affect its external aggressions. Bipartisan support is advised to streamline and unify America's Middle East policy, particularly concerning rapid response capabilities. Reevaluation of U.S. advisories concerning Israel's military actions is also recommended, given the multi-front challenges the country faces. Monitoring Saudi Arabia's economic diversification efforts and reassessing NATO's approach to Turkey are also advised, given their long-term implications for U.S. relations with these countries. Overall, this edition serves as an invaluable resource, equipping American leaders with the nuanced insights needed to make informed legislative decisions on matters of national and international importance. Your full briefing is below: 
The Region October 23-2023
USA In The Region: 
Analysis: The U.S. is recalibrating its Middle East strategy, as evidenced by the 26th Marine Expeditionary Unit's diversion to Israel and a bipartisan Senate delegation's regional tour. The Marine unit, known for rapid deployment and high-impact capabilities, enhances U.S. readiness against potential threats, particularly from Iran. This aligns with the Pentagon's activation of regional air defense systems. On the legislative front, the Senate delegation, led by Lindsey Graham, emphasized a unified U.S. approach to complex regional issues, meeting key players like Saudi Crown Prince Mohammed bin Salman and Israeli officials. Both military and legislative actions signify a shift in U.S. foreign policy, focusing on rapid response capabilities and a unified political stance. These moves could deter potential aggressors like Iran, while opening avenues for diplomatic negotiations. However, the effectiveness of these strategies will depend on the evolving geopolitical landscape.
Intercepts: 
Elite 26th Marine Corps Unit Diverts to Israel: An Overview of Their Versatile Capabilities. The compact U.S. Marine force, known for its adaptability in military missions, possesses swift deployment and high-impact capabilities, enhancing U.S. strategic presence in volatile regions. While complementing broader U.S. efforts, its primary strength lies in rapid initial responses. Analysts highlight the 26th MEU's course change from Kuwait to Israel as a significant shift in U.S. regional strategy, capable of showcasing a swift American response to potential threats from Iran and its proxies against Israel. Watch the Fox News video translated to Arabic by ACLS. Additionally, the Pentagon has activated air defense systems across the Middle East in response to recent actions by Iran and its proxies. US Secretary of Defense Lloyd Austin stated that the move aims to enhance regional deterrence and protect US and Israeli interests. The decision follows consultations with President Biden and Israeli Defense Minister Yoav Gallant.
U.S. Senate Delegation Visits Middle East Amid Rising Tensions. The U.S. Senate delegation led by Lindsey Graham was bipartisan, featuring lawmakers from both the Republican and Democratic parties. Among those who made the trip were Senators Richard Blumenthal, Cory Booker, Katie Britt, Ben Cardin, Susan Collins, Chris Coons, Jack Reed, Dan Sullivan, and John Thune. This diverse group aimed to present a united front from the U.S., emphasizing bipartisan support for engagement in the Middle East. The delegation's composition underscores the importance that the U.S. places on a unified approach to complex regional issues, including the ongoing conflict in Gaza. In Saudi Arabia, U.S. Senator Lindsey Graham and bipartisan officials met Crown Prince Mohammed bin Salman to discuss U.S.-Saudi ties and the Gaza conflict. The Crown Prince emphasized the need for Gaza de-escalation and restarting the peace process. In Israel, Senator Graham accused Iran of involvement in recent Hamas attacks and warned of consequences if the conflict escalates. He stressed the immediate goal of defeating Hamas for Israel's security and Palestinian well-being, crucial for normalizing Israel-Saudi relations and regional peace (Al Arabiya, Israel Hayom).
======================================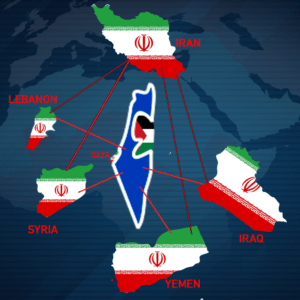 The Region October 23-2023
IRAN
Analysis: 
Iranian officials appear to be parroting a unified confrontational rhetoric of defiance, threats, and criticism while showcasing alleged military advancements to imply their preparedness for any regional escalations. Iran, however, is not just trying to make vocal noises, rather it is preparing and strategizing on its next moves in the region and towards Israel. 
After Egypt excluded Iran from the Cairo Summit, Iranian media questioned the summit's effectiveness without the presence of the Mullah regime and its regional proxies, Assad and Lebanon's Hizbollah representatives. 
Internally, the Iranian regime continues its repression, hitting against the wall all the international condemnation it received over the death of Mahsa Amini. The two female journalists who first reported on the incident of Mahsa Amini were sentenced to 25 years in jail over alleged U.S. collaboration. Concurrently, Iranian opposition media reported that Armita Geravand, the 16-year-old girl who was brutally beaten in one of Tehran's metros by the Hijab police, is now said to be 'brain dead,' demonstrating the Iranian regime's relentless and defiant stance in all issues. 
It is very important to know that Iran is not standing by the sidelines, rather strategizing which of its proxy fronts it will deploy next against Israel and the United States. As you will read in today's edition of the Region's analysis and news intercepts, not only will you identify Iran's regional proxies but you will also gain perspective into Iran's next possible extortion operations. 
Intercepts:
===================================
The Region October 23-2023
ISRAEL & PALESTINIAN TERRITORIES
Analysis: Israel is confronting escalating tensions on multiple fronts, with Hamas in Gaza, Hezbollah in Lebanon, and Assad in Syria—all under the proxy control of Iran. The situation is further complicated by international calls for humanitarian aid and the formation of specialized Israeli units targeting elite Hamas commandos.The recent attack on Israeli troops near the Gaza border has led to increased airstrikes in northern Gaza and preparations for a ground offensive. This escalation has been met with reciprocal rocket attacks from Hamas, straining Israel's Iron Dome defense system. Concurrently, Israeli Economy Minister Nir Barkat's warning about a potential military strike on Iran if Hezbollah joins the conflict indicates Israel's willingness to broaden its military engagements. Israel's formation of a special operations unit, "Indigo," aimed at neutralizing elite Hamas commandos, underscores a tactical shift towards targeted operations. Meanwhile, the Al-Qassam Brigades' evolving naval capabilities pose another layer of security concerns. International calls for humanitarian aid and conflict resolution, led by figures like Pope Francis, add diplomatic pressure. On one hand, Israel is dealing with the urgency of deterring internal security risks; on the other, it faces constant international pressure for humanitarian aid and a ceasefire. Reports suggest that the Biden administration is advising Israel to delay a ground incursion into Gaza, potentially causing internal political rifts between Prime Minister Netanyahu and his war cabinet. This volatile, escalating situation, with Iran having multiple fronts from which to attack Israel, underscores the necessity of a strong American presence in the region. The people of Israel have never needed the United States as much as they do today.
Intercepts: 
===================================
The Region October 23-2023
IRAQ
Analysis: The recent increase in attacks on U.S. and coalition forces in Iraq, notably the drone strikes on Ain al-Asad airbase, highlights Iran's strategy of using proxy groups to exert influence and escalate tensions. While avoiding direct military confrontation, Iran remains relentless in its aggression, as seen in the frequency of these attacks and the U.S. decision to evacuate non-essential staff. This indirect approach allows Iran to engage without the diplomatic and military costs of direct involvement. The situation is further complicated by the presence of the Islamic State and internal tensions between the Peshmerga and the Iraqi army. Additionally, the rising drug crisis in Kurdistan suggests a broader strategy on Iran's part, potentially implicating Tehran in drug trafficking operations in Iraq. This serves as another proxy method to destabilize the region and divert attention and resources, thereby weakening U.S. and coalition efforts. In summary, Iran's multi-faceted use of proxy warfare and covert operations in Iraq presents a persistent and complex threat that requires a comprehensive response.
Intercepts:
===================================
The Region October 23-2023
SYRIA
Analysis: Iran's strategic foothold in Syria, grew stronger after the 2018 Kerry-Lavrov agreements and was further solidified by the U.S.'s withdrawal of support for Syrian opposition fighters in Syria's southern borders. This policy misstep by the Obama administration allowed Iran to capitalize on the U.S.'s absence, paving the way for Hamas to reconcile with Assad. Despite Israeli airstrikes on Syrian airports aimed at severing Iran's supply lines to Hamas and Hezbollah, their efficacy remains questionable. Iranian militias continue to transfer weapons into Syria, and the Assad regime has been non-confrontational, possibly under Iranian influence. Delaying assessments of the Iran-Syria battlefront could be a grave mistake for both Israel and the U.S. Iran is aware that Israel would decisively counter any threats, and values Lebanon's Hezbollah more than Assad. As attention diverts, the Iran-Syria battlefront risks unpredictable escalation.
Intercepts:
The Region October 23-2023
LEBANON
Analysis: The recent disclosures by the Israeli National Security Research Center on Hezbollah's military strength indicate a growing concern over the group's capabilities. With an estimated 50,000 to 100,000 fighters and a substantial missile arsenal, Hezbollah poses a significant security challenge not only to Israel but also to the broader stability of the region. The presence of specialized forces like the "Al-Radwan Force" and advanced missile systems adds layers of complexity to the threat. On the ground, the situation remains tense but relatively calm along the southern Lebanese border following Israeli airstrikes. The Lebanese Red Cross and UNIFIL's involvement in recovering bodies suggests a humanitarian aspect that cannot be ignored. The death toll among Hezbollah and Lebanese Resistance Brigades indicates that military operations are far from over. Israel's continued reconnaissance and targeting of Hezbollah assets show a proactive approach to neutralize the threat. However, this also risks escalating the conflict further, potentially drawing in other regional actors. The situation necessitates careful monitoring and diplomatic efforts to de-escalate tensions and address the root causes of the conflict.
Intercepts:
 Israeli Center Reveals Hezbollah's Military Strength. The Israeli National Security Research Center disclosed details about Hezbollah's military capabilities. Hezbollah is estimated to have 50,000 to 100,000 fighters, including the "Al-Radwan Force," numbering 2,500. Their missile arsenal comprises 150,000 to 200,000 missiles, including accurate ones with high destructive potential. Notable missiles include Grad, Fajr 3 and 5, Zelzal, Al-Fateh 110, and Chinese-made C802. Hezbollah also possesses self-produced drones for offensive missions up to 400 kilometers. Israel considers increased vigilance and monitoring necessary given Hezbollah's capabilities (Al Nahar).
Cautious Calm Prevails on Southern Border, Lebanese Red Cross Retrieves Bodies. Cautious calm prevails on the southern border after Israeli airstrikes near Aitaroun. Israeli reconnaissance planes continue flying, targeting missile launchers and Hezbollah cells. Lebanese Red Cross, army, and UNIFIL recover bodies of civilians. Lebanese Resistance Brigades mourn two members, while Hezbollah mourns another casualty, totaling 27 since the south's military operations began. Western sector villages remain calm with occasional flares as UNIFIL monitors tense areas (Al Nahar). 
===================================
The Region October 23-2023
THE GULF REGION & YEMEN
Analysis: The recent developments stemming from the Houthis in Yemen indicate Iran's deployment of its regional proxies in the Gulf. In addition to Syria, Lebanon, and Iraq as Iranian battlefronts against Israel, the recent Houthi missile aimed at Israel and intercepted by the U.S. Navy was merely an Iranian show of force to exert influence without direct military engagement with the U.S. or Israel. What is clear now is that the Houthi militia is indifferent to whether it is listed or delisted from American designations, and that diplomacy and even sanctions are not effective deterrents against terrorism and aggression. What is also crystal clear is that all the overtures of appeasing Iran have not only proven to be failures but may also have prolonged the empowerment of what transpired on October 7, 2023. Isolationism has proven to be another failure, even for those who may not care about Israel. This is not just Israel at war; it is also a daring test of American will and resolve. How the United States chooses to correct policy mistakes will have a significant impact on Israel's destiny. 
Intercepts: 
===================================
The Region October 23-2023
EGYPT & NORTH AFRICA
Analysis: The Cairo Peace Summit convened a high-profile array of international leaders from countries including Egypt, Palestine, and the European Union. Notably absent were representatives from Israel and Iran, countries that wield significant influence in the Middle East. UK Foreign Minister James Cleverly, speaking after more than 100,000 pro-Palestinian protesters marched through London, emphasized his direct talks with the Israeli government about adhering to international law and exercising restraint. This suggests that not just Arab leaders, but Western representatives like Cleverly, were also attuned to their domestic audiences. The summit concluded without issuing a joint statement, highlighting not just a divergence of opinions but also an apparent absence of concrete, unified objectives to resolve the crisis and halt ongoing violence. On a lighter note, the summit also had its share of photo-op drama. Iraqi Prime Minister Muhammad Shiaa al-Sudani opted out of the group photo, refusing to stand in the second row behind the Emir of Qatar. This wasn't al-Sudani's first time dodging the camera; he pulled a similar move at the 32nd Arab Summit in Jeddah. If leaders can't even agree on a photo formation, it adds a layer of complexity to the already intricate diplomatic dance. 
Intercept:
"Showboating" at Cairo Summit, Says Expert. Marc Owen Jones, an assistant professor of Middle East studies at Doha's Hamad Bin Khalifa University, noted significant "political grandstanding" in the opening remarks of Arab leaders at the Cairo Summit. These leaders reaffirmed their commitment to a two-state solution for the Israeli-Palestinian conflict. "Much of this is aimed at bolstering domestic legitimacy, especially for el-Sisi, who faces a restless population demanding action on the Palestinian issue," Jones told Al Jazeera. Despite the posturing, Owen Jones believes the summit's real-world impact will be minimal, ranging from "a ceasefire at most, to slightly increased humanitarian aid at least." Jones added that without Israel's participation, the summit lacks the political influence needed to halt Israel's bombing of Gaza (Al Jazeera).
===================================
The Region October 23-2023
TURKIYE
Analysis: Türkiye's recent diplomatic activities reveal a nation adept at balancing its relationships with both regional and global powers. The recalibration of its stance on Hamas, under pressure from the United States, indicates a strategic shift aimed at maintaining balanced ties with key players like Israel. Türkiye's call for a "guarantee mechanism" in the Israel-Hamas conflict further underscores its desire to act as a mediator while advocating for responsible international behavior. The country's humanitarian aid mission to Gaza highlights its commitment to humanitarian causes, even as it navigates complex diplomatic relations with Egypt and Israel. Türkiye's involvement in the upcoming Ukraine peace talks showcases its unique position as a mediator with open channels to both Russia and Ukraine. Its joint military exercises with Azerbaijan signify a commitment to regional security and a willingness to display military cooperation openly. The country's role in addressing irregular migration to Europe is increasingly recognized, as evidenced by Greece's call for cooperation. Finally, the significant decline in the number of Syrian refugees in Türkiye indicates the country's efforts to manage its internal challenges. Overall, Türkiye's diplomatic moves in the past week demonstrate a nation keen on playing a constructive role on the international stage.
Intercepts: 
===================================