The Region: A Middle East Newsletter
THE REGION is a weekly news digest summarizing significant Middle East developments that will be of interest to the English-speaking audience. The news items in THE REGION are curated by ACLS experts and drawn from a wide range of English, Arabic, and other regional language sources. Subscribe to this weekly newsletter and daily intercepts here.
TOP STORY: Massive Nationwide Protests in Iran to Mark 40-Day Memorial of Killing of Mahsa Amini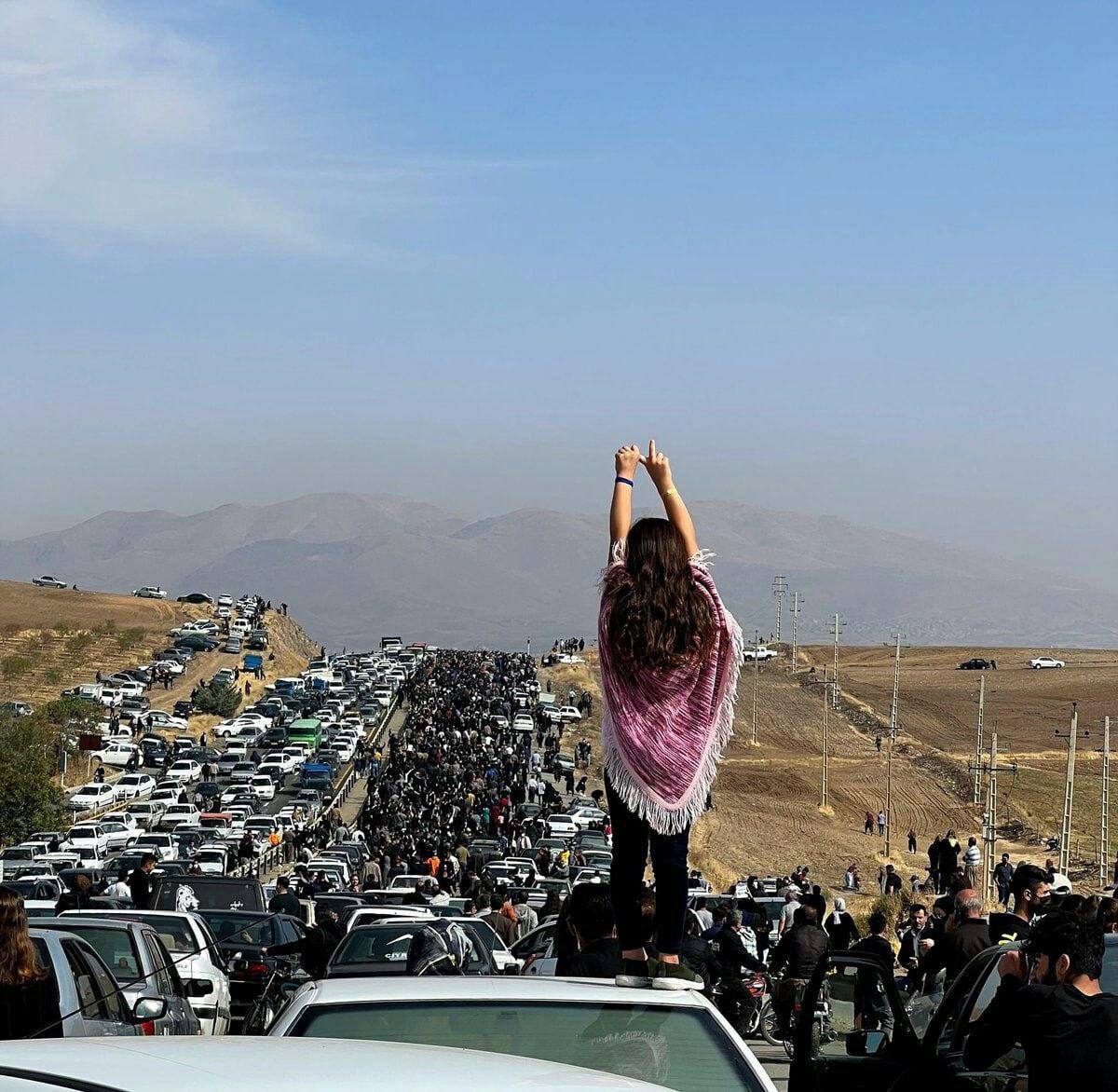 Forty days after the murder of Mahsa Amini by Iranian regime security forces, protests against the Iranian regime show no sign of stopping. On October 26, tens of thousands of protestors gathered at Amini's grave in her home city of Saghez, defying Iranian regime orders not to do so. Large crowds demonstrated in other cities as well, capping a week in which regime forces killed more than 230 protestors across the country. Last week's large protests inside Iran were joined by strikes in several provinces, as well as a massive anti-regime protest in Berlin in which an estimated 80,000 people took part. 
Supreme Leader Ali Khamenei's response to the past week's protests was to issue a declaration on October 25 that greater force will be used against the protestors. Meanwhile, according to Arabic media outlets closely watching the Iranian protest movement, a group of anonymous activists who call themselves Tehran Youth continued to call for twice weekly demonstrations. The nationwide unrest is the most serious internal challenge to the Iranian regime's authority since the regime was established in 1979.
IRAQ
"Theft of the Century" in Iraq:  $2.5 Billion Stolen from Iraqi Budget in Brazen Fake Contract Scheme; Major Suspect Arrested Trying to Flee Country.
Iraqi security forces announced on Monday the arrest of Nour Zuhair Jassim at Baghdad International Airport while he was trying to leave the country by a private plane. Jassim is one of the main suspects in a massive theft scheme organized by corrupt Iraqi government officials who arranged between September 2021 and August 2022 for five Iraqi companies to receive massive payments from the Iraqi government under fake contracts. The total amount of stolen money probably exceeds $2.5 billion, according to an official statement issued by Iraq's Tax Authority. The news of the massive theft has prompted public outrage across the country, not just because of the scale of the theft, but also because the conspirators were closely connected to Iraq's most powerful political parties, leading Iraqis to conclude that the theft was organized by major elements of the government itself.  The exposure of such large-scale political corruption casts a shadow on the efforts of Prime Minister-Designate Sudani to form a new government by the constitutional deadline of mid-November.
Large Anti-Government Protests Erupt Across Iraq on Third Anniversary of 2019 Uprising

.
The news of the theft scheme gave renewed momentum to Iraq's anti-government protest movement. Baghdad and other provinces witnessed large-scale demonstrations on October 25 on the third anniversary of the 2019 protest movement that forced the collapse of the Haider Abadi government and left tens of thousands dead or wounded. Security forces in Baghdad, however, took full control of Tahrir Square and were able to push protestors back to Al-Khilani Square. 
IRAN
Iranian-American Activists Pressure Biden Administration to Remove US Envoy for Iran.
After US Envoy for Iran Robert Malley prompted outrage from Iranian activists for remarks in which he seemed to minimize the Iranian protestors' motives, Iranian-Americans circulated a petition demanding that the Biden Administration remove Malley from his position. Although a chastened Malley apologized for his remarks on October 24 and admitted they were "poorly worded," by October 26 the petition demanding his ouster had garnered more than 90,000 signatures. The Iranian activists took issue with Malley's original description of the Iranian protests as seeking "respect" from "their government," rather than an uprising seeking the end of the regime itself, as Iranian protestors have demanded.
Caught Between Denying and Bragging About Giving Russia Killer Drones in Ukraine, Iranian Regime Scrambles to Avoid International Sanctions.
The appearance of Iranian killer drones in Ukraine, where Russian forces have used them against Ukrainian population centers and infrastructure, has caused a backlash against the Iranian regime in the west and growing calls to levy sanctions on Tehran for violating international weapons prohibitions. Ukrainian leaders denounced the Iranian supply of drones to Russia and pressured Tehran to stop. On October 18, Ukraine's Foreign Minister announced his country's plans to cut ties with Iran after a "bag of evidence" was compiled about Russia's use of the Iranian-made military drones. Three days later, a Ukrainian official revealed to the Israeli Public Broadcasting Corporation that Ukrainian troops had killed at least ten Iranians who were present in Russian military positions, presumably to assist the Russians with drone operations. On October 24, President Zelensky told the Haaretz Democracy Conference that Tehran supports Moscow with drones in exchange for Russian assistance to Iran's nuclear program. 
With international condemnation growing, Iranian officials chose to simply deny that Iran is supplying the drones to Russia at all. Foreign Minister Abdollahian denied the accusations, demanded concrete evidence that Iran was supplying Russia with drones, and claimed, somewhat fantastically, that if it could be proven that Russia was using Iranian drones in Ukraine, then Tehran would take steps to put a stop to it. On October 24 Abollahian repeated his denial, asserting that "We have not sold and will not sell any weapons and drones to be used in the war against Ukraine," while also claiming that Iran is "ready to sit with Ukrainian officials to discuss bogus allegations that Iran has exported drones to Russia."  Abdollahian also revealed that he had told EU foreign relations representative Joseph Borrell that Iran is "ready for a team of Iranian and Ukrainian military specialists to look into claims concerning the deployment of Iranian drones in the Ukraine war." Finally, on October 25 the Iranian regime followed up by sending a formal letter to the United Nations accusing the western countries of trying to establish a "false connection" between Security Council Resolution 2231 and the use of drones in the Ukraine war, and claiming that the UN Secretary General does not have the authority to carry out an investigation of the west's accusations. 
Hackers Expose Thousands of Internal Documents from Iran Regime's Nuclear Program.
Last week a group of Iranian hacktivists calling themselves "Black Reward" announced they had successfully hacked into files belonging to the Iranian regime's nuclear program.  On October 21, "Black Reward" gave the regime an ultimatum to release all the political prisoners within 24 hours or else the hacker group would publish the data.  When the deadline passed with no prisoner release, the hacktivists began releasing 50GB of data including such items as contracts of the Iran Atomic Energy Production and Development Company with domestic and foreign partners, management and operational schedules of Bushehr power plant, and identity details of Iranian and Russian specialists working on the Iranian nuclear program, according to Iran International.  The hacked information includes evidence that Russian nuclear specialists had a direct role in the Iranian regime's nuclear activities at the Bushehr nuclear plant.  "Unlike Westerners, we do not flirt with criminal clerics, and if we promise something, we fulfill it 100%," the hacker group declared.
LEBANON
President Aoun's Term Set to Expire this Week with no Successor in Sight, Leaving Presidential Vacuum.
The six-year term of 89-year-old Lebanese President Michel Aoun will expire on October 31 with the Lebanese parliament deadlocked over who will succeed him in office. The next president must garner 65 votes in the 128-member parliament to win election, and thus far the major political blocs are at loggerheads in the election process. Through several ballots, no candidate has come close to the 65 votes needed to win. Hizballah and its political allies appear to prefer the pro-Hizballah and pro-Assad politician Suleiman Franjieh, but they lack the votes to put Franjieh into office. The anti-Hizballah blocs have given independent MP Michel Mouawad 39 votes, also short of the number needed, while the 13-member reformist bloc has refused to vote for any candidate at all. The impasse means that after October 31 Lebanon will enter yet another period without a president. Lebanon has suffered presidential vacuums before (2007-8 and 2016), each of which ended in major political compromises favoring Hizballah.
Lebanese Government Begins Forcing Syrian Refugees Back to Syria.
On October 26, the Lebanese government sent 750 Syrian refugees back to Syria in a government-organized convoy. It was the first such transfer after several years of increasing demands by the Lebanese presidency of Michel Aoun that Syrian refugees should begin returning back to Syria so as to relieve Lebanon of the burden of hosting them. Aoun and his political ally and son-in-law Gebran Bassil have claimed for years that Syrians in Lebanon should not be considered refugees, but rather as "economic migrants" who could easily go back to Syria but are enticed to stay in Lebanon by assistance from international aid organizations. While the number of returnees in the October 26 convoy was relatively small, the refugees are returning to conditions in Syria that international organizations assess as highly unsafe. On October 14, Amnesty International criticized the Lebanese government's plans, saying that "Syrian refugees in Lebanon are not in a position to make a free decision regarding their return, due to (Lebanese) government policies that restrict their freedom of movement and residence, and discriminate against them, and their inability to access to basic services, as well as the lack of objective and up-to-date information about the current situation in Syria." Amnesty added that in sending the refugee convoys to Syria, "Lebanese authorities are knowingly putting Syrian refugees at risk of abuse and persecution upon their return." Amnesty's assessment has long been that conditions in Syria do not allow for the free and safe return of refugees, and that many refugees who returned to Syria were subject to "torture, rape, and disappearance" once they were back.
Aoun Calls for Negotiations with Damascus to delineate the Lebanon-Syria Maritime Boundary, but Syria Cancels the First Meeting.
Seeking to capitalize on the recent agreement between Lebanon and Israel to delineate their maritime boundary, outgoing Lebanese President Michael Aoun called for negotiations to also delineate the maritime boundary between Lebanon and Syria. Beirut has objected to the Syrian government's activities to develop gas in waters that the Lebanese government claims belong to Lebanon. But after the Lebanese government announced it would send a delegation to Damascus this week to begin maritime boundary negotiations, Syrian officials announced on October 24 that the meeting, scheduled for October 26, would not take place because the Syrian delegates "had prior commitments." Although Syrian and Lebanese officials scrambled to explain that the talks were merely "postponed," the incident leaves the clear impression that the Syrian regime has little interest in an agreement that would recognize Lebanon's sovereignty over waters Damascus wants to exploit for itself.
SYRIA
United States Blacklists Three Assad Regime Officials for Chemical Weapons Attacks Against Civilians, While UN Official Reports Assad Regime Still in Violation of Chemical Weapons Agreements.
On October 25 the U.S. State Department sanctioned three Syrian military officers for their role in the Syrian regime's sarin gas attack that killed more than 1,400 civilians in Ghouta in 2013. Secretary of State Antony Blinken called their actions "brutal and inhuman" and said some of the attacks they conducted "amount to war crimes."  The three military officers designated were Brigadier General Adnan Aboud Hilweh, Major General Ghassan Ahmed Ghannam, and Major General Jawdat Saleebi Mawas. The three men are notorious figures known for their roles in conducting missile attacks on Syrian population centers.
Blinken announced the sanctions on the same day that the UN's High Representative for Disarmament Affairs, Izumi Nakamitsu, reported to the UN Security Council that the Syrian government has never fulfilled its obligations to account for its chemical weapons use and proliferation, despite dozens of visits by OPCW representatives to Damascus to seek answers. Nakamitsu's report is a clear technical indication that the 2013 Russia-U.S. agreement to dispose of Assad's chemical weapons arsenal has never been implemented, as Assad's many post-2013 chemical weapons attacks have already proven on the ground.
Israel Strikes Iranian Regime Weapons Depots in Damascus–and Russian Propaganda Denounces Israel for Doing So.
On Friday, October 21 and Monday, October 24, Israeli forces carried out large airstrikes against Iranian military targets in the Damascus area. Arabic media reported that the airstrikes targeted Iranian weapons depots operated by Hizballah's Unit 4400, a specialized organization whose mission is to smuggle sensitive weapons from the IRGC-Quds Force into Hizballah's arsenals for potential use against Israel. In response to the Israeli airstrikes, Russia offered political cover for the Iranian regime on October 25. The Russian deputy representative at the UN in New York claimed that "The Israeli attacks that violate the airspace in Syria…destabilize the situation in Syria" and that the Israeli strikes were "carried out against civilian targets." 
LIBYA/TURKEY
Libya and Turkey Sign New Defense Agreements

.
On October 25, Prime Minister Abdulhamid Dbeibah of Libya's Tripoli-based government met with Turkish Defense Minister Hulusi Akar in Istanbul to sign several agreements for military assistance and cooperation between the two countries. Dbeibah's government announced that the agreements would include measures to "boost the capacity of Libya's air force using Turkish expertise," while Akar stated that Turkey would continue its "military training, assistance, and consultancy" to Dbeibah's government.  Turkey has been the main supporter of the Tripoli-based Libyan government, and Turkish forces assisted Dbeibah's military forces in their successful campaign against the Eastern Libya-based rival administration of Khalifa Haftar in 2020.
YEMEN
After Recent Threat to Attack International Oil Shipping, Houthis Launch Drone Attack Against Yemeni Oil Port.
On October 21, Houthi officials confirmed that their forces had launched two armed drones to attack the Yemeni oil port of Dabba. The attack came just days after Houthi leaders had announced that they would consider the international waters off Yemen's coast used by oil companies to be an "operations area" subject to Houthi attacks, and warned that oil shipping could be considered a Houthi military target.  The Yemeni government, which opposes the Houthis, called the targeting of the port an "escalation."  On October 26, the German foreign ministry echoed this declaration, announcing that Germany is concerned by the Houthis' "worrying escalation" of attacks against civilian infrastructure.
[divider style="solid" top="10″ bottom="10″]
"We welcome your feedback and ideas. If you have comments about "The Region" or want to recommend items to include in the newsletter, send your suggestions to [email protected]."